Publicity surrounding the recent announcement of the new Built Environment Carbon Database (BECD), in which our Royal Institution of Chartered Surveyors is playing a key role, says the sector is responsible for around 40% of the global emissions. This is in the construction of buildings in the first place, their carbon footprint when they are in use, and then in their demolition and disposal. 
In the UK, construction waste (construction, demolition and excavation including dredging) in 2018 was recorded as 137.8 million tonnes, a staggering 62% of the country's total 222.2m tonnes. Though through involvement in our clients' construction work we have noticed a greater interest in using "greener" products, materials and methods, and we definitely support any such initiatives.
Some notable players in the UK construction and property development sector are taking a very public stance on sustainability through supporting greater adoption of circular economy practices. This includes our clients Weston Homes, Grosvenor and British Land.
Weston Homes
In the latest version of its 2030 Climate Challenge report, RIBA advises architects to "Prioritise the retention, reuse and repurposing of existing buildings where possible and where retrofit upgrades make carbon sense from a whole life perspective." Or in the words of Carl Elefante, former president of the American Institute of Architects, "The greenest building is the one that already exists."
Repurposing existing buildings is certainly what we have been helping our client Weston Homes to do as they retain as much as possible of the original buildings at the former Cambridge Military Hospital in Aldershot. We have provided crucial conservation and preservation expertise for the transformation of a 12-acre collection of Victorian and Edwardian buildings into a £60 million (GDV) complex of what will be 140 luxurious, high specification houses and apartments.
"The company is passionate about these types of heritage projects," company founder and Chairman Bob Weston told us. Our own Building Conservation Specialist, Peter Wade FRICS, said he sometimes found it daunting to be working on site and witness the damage that had been inflicted on this large group of historic buildings, both by neglect and by inappropriate extensions. Though at the same time he admits, "It has been a privilege to be involved with the redevelopment and refurbishment of the site by Weston Homes, and to see it coming to life again as people now move into the stunning apartments. The wider area [250 hectares of the Aldershot Urban Extension] is set to become a small new town in its own right, with the Cambridge Military Hospital watching over it from its vantage point."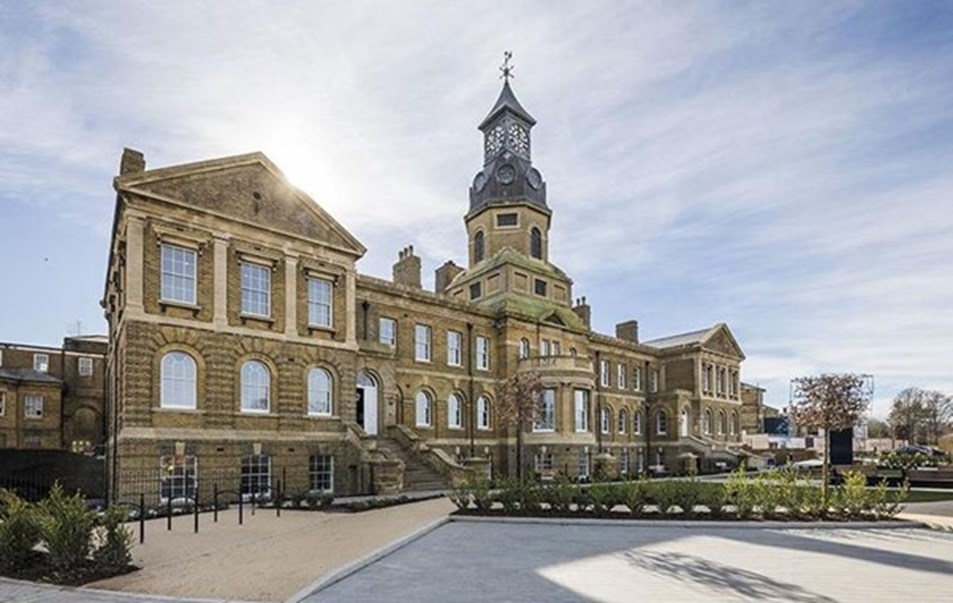 Grosvenor Britain & Ireland
Grosvenor Britain & Ireland ('Grosvenor') aims to boost circular economy practices in the built environment by trialling a second-hand market for materials in Central London. By 2030, GBI will send zero non-hazardous waste to landfill from its buildings and developments under its control as part of their ambitious environmental goals.
Research results released by Grosvenor in April 2021 showed that just 24% of built environment firms including construction, contractor and demolition firms, architects and developers, currently have policies specifying material re-use targets. Their "Accelerating Material Re-Use" event, also in April 2021, catalogued a number of issues that the trial may need to help resolve.
Supplies of recycled materials are not standardised, complicating the procurement process.
If materials are obtained from different sources, their quality is likely to be inconsistent. Similar spec materials may have been used for different purposes and under different conditions.
This could become a risk factor, how will insurers respond when they don't have an adequate database to assess the impact on premiums?
When a building comes to the end of its useful life, records are often unavailable to know what is actually in it, what it's made of.
If buildings are going to be built that are easier to disassemble, through avoiding glues and coatings, for example, it will come at a cost. Who pays, who benefits?
None of these are insurmountable. The creation of digital building and materials passports, much like a car logbook, will be invaluable in quality assuring the circular credentials of a project at the outset, and provide a lasting legacy as to what can be re-used in the future. Using immutable blockchain technology to store such data in decentralised ledgers seems a likely step.
In the meantime, Grosvenor is also increasing opportunities for learning and knowledge sharing within the whole industry. The first step, alongside a range of partners, is a series of guides addressing the key barriers identified in the research. One such guide in this series is a "Full Circle To Reuse" flipping book created by the structural and civil engineering practice Elliott Wood.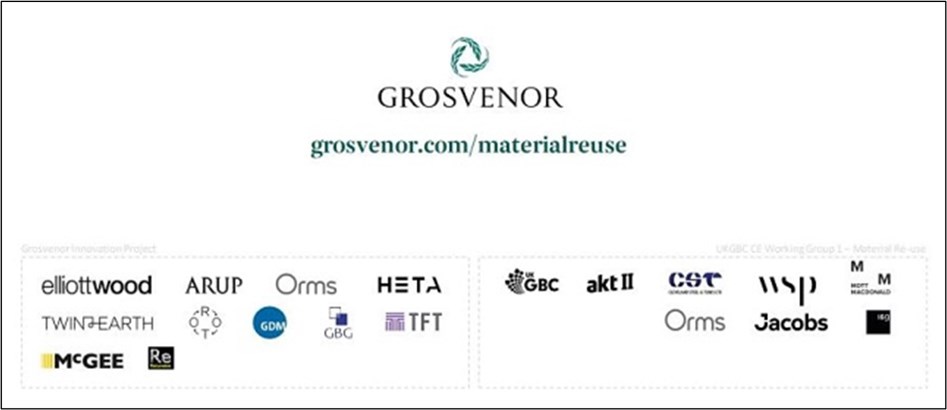 British Land
In June 2020 British Land launched its Sustainability Strategy for the next decade, announcing an ambition to transform its entire portfolio to net zero carbon – including developments – by 2030. It will prioritise retro-fit over new build, and created a Transition Fund resourced by an internal levy on new developments of £60 per tonne of carbon.
British Land's redevelopment of 100 Liverpool Street, Broadgate, has set a benchmark for an ultra-low carbon building. It retained 50% of the building's original structure, and reduced embodied carbon emissions while also making the building more energy efficient. The emissions the company could not eliminate were offset by tree planting schemes in the UK, Mexico and China. Plans for the new 6,000 square metre park in Exchange Square include features intended to promote the physical and emotional wellbeing that access to green space provides.
As we emerge from pandemic lockdowns and employers encourage employees to return, such factors will be increasingly important.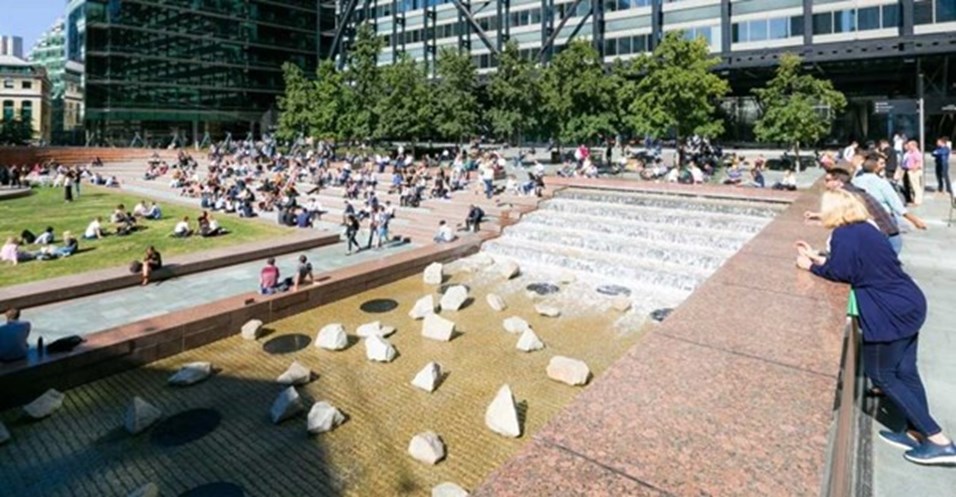 Exchange Square. Image source: British Land
To close, we are privileged to work with such forward thinking clients whose innovative practices are steering the whole sector towards circular economy practices and Net Zero Carbon targets.
Our experience and knowledge gained from their examples is transferable and applicable to projects of any size for any Murray Birrell client that also wants to go down the path to a more sustainable future.