A drone survey refers to the use of a drone, or unmanned aerial vehicle (UAV), to capture aerial data. Over the years, this valuable toolkit addition has created another level of efficiency for us to use as Chartered Surveyors.
History: Why are they called drones?
In 1883, during the Spanish American War, a kite was used to take the first aerial photograph. After this, World War I led to the construction of radio-controlled aircraft. In the 1930s, the British DH 82B Queen Bee, a primitive UAV, was developed by the British Royal Navy.
In 1935, US Admiral William H. Standley saw a demonstration by the British Royal Navy of the new remote-controlled aircraft. Back in the US, Standley assigned Commander Delmer Fahrney the job of developing a similar device for the US Navy. The Commander used the name 'drone' in respect to the British Queen Bee.
Benefits of using drones
We have found that using drone surveys offer many benefits compared with conventional surveying methods. These include:
We carry out a lot of inspections in London, where scaffolding would be impractical in such a busy area, so using drone technology offers minimal disruption to busy areas.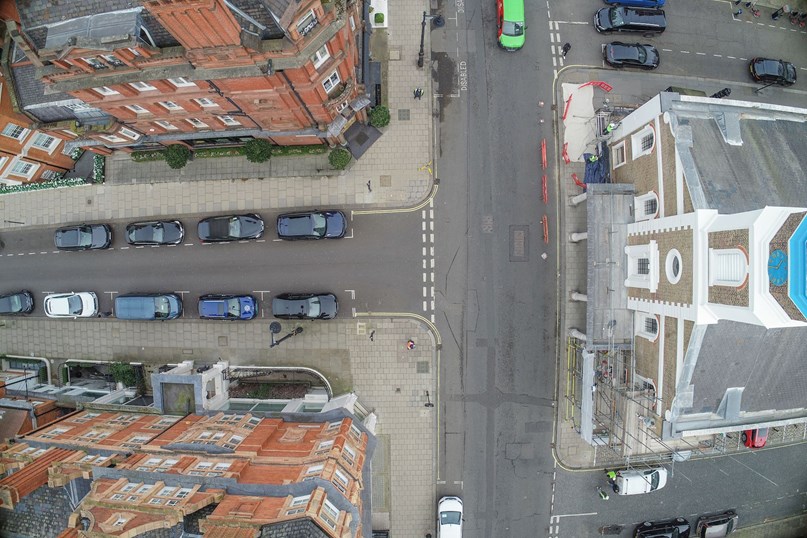 Traditional building reports and roof surveys rely on the use of ladders, scaffolding, platforms or aerial lifts to reach hard-to-access places. However, this often comes with a number of disadvantages in terms of time, cost and the health and safety risks that come with manual 'at-height' working. Therefore drones offer a safer alternative.
Drones are quick to deploy and provide a view from above without the delay and cost of scaffolding, platforms, or hiring a plane or a helicopter.
We can obtain high-quality aerial photographs and high-resolution video footage to inspect building elements. Photographs can be taken from many different angles and elevations.
We work on a number of historical buildings and aerial survey technology is ideal for this, as there is no physical contact with the building and therefore no risk of causing damage. A drone can access spires or towers as well as operate over water or hard-to-reach locations.
Ground Penetrating Radar (GPR)
This geophysical survey method uses pulses of electromagnetic radiation emitted into the subsurface to check for changes. This non-intrusive method is used to locate a wide range of materials including metal, plastics, reinforced concrete, geological features and voids.
Can anyone use them?
Drones are highly regulated, and permission must be obtained before they are used. For commercial work, survey drone operators must be registered pilots with CAA 'permission for aerial work'. All aircraft operating within UK airspace for commercial aerial work must comply with CAA regulations. We fully comply to all regulations regarding drones.
Please contact Murray Birrell for more information.