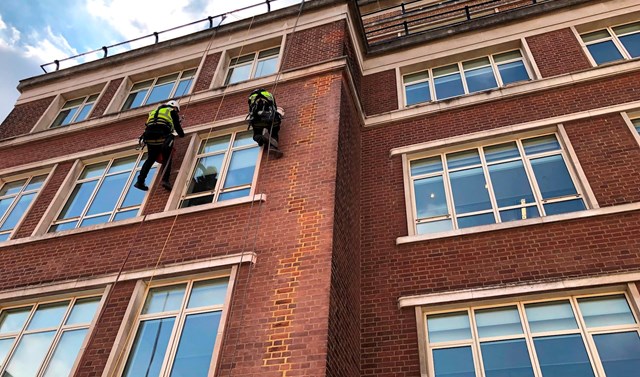 Hanging Around To Tackle "Regent Street Disease"
Murray Birrell has specified and acted as contract administrator on a complex façade repair scheme to a multi-storey building in London's West End.
To overcome this very constrained site, rope access techniques have been deployed using specialist abseilers, with all required resources suspended from upper levels in order to undertake the work. This technique has enabled the re-fit of the lower part of the building to be progressed without the constraint and cost of a large scaffold. The project will complete in May 2019 and achieve the objective of improving the functionality of the exterior of the building in order to protect the structural steel frame, which had suffered from "Regent Street Disease" (RSD). RSD is a condition suffered by iron and steel frame buildings built mainly in the early 20th century. When water permeates the exterior envelope it corrodes the metal, which crumbles and would expand to up to 10 times its original volume if it wasn't embedded in bricks and masonry, which thus cracks under the pressure and is eventually displaced if the corrosion is not treated.
If you require the services of experienced Chartered Surveyors, please get in touch about any of the extensive range of building services we provide.