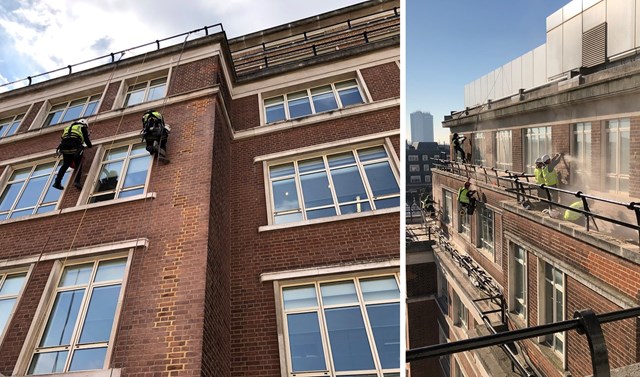 Time For A Rope Trick When Scaffolding Isn't The Solution
Traditional scaffolding is not always appropriate on a building project. Where we find that the most common access methods on an external repair and redecoration project inappropriate or impractical, we have worked with abseiling specialists to ensure that our clients' requirements are delivered to the correct standard.
We recently completed such a project in London's West End with the use of abseilers where scaffold wasn't a viable option. It was a challenge but we ensured that the project was delivered in accordance with the brief.
The nature of the work was to treat "Regent Street Disease", where moisture permeates the outer envelope and attacks a building's steel framework. As it corrodes the steel frame expands, causing cladding materials to crack and, in some circumstances, fall away. Without a close up inspection by the CA, the appointment of a reliable team of abseilers and the use of photos is essential to validate the work that has been undertaken.
Furthermore the use of drone surveys may also be appropriate in certain circumstances to undertake initial surveys of inaccessible areas and to review completed work.
If you would like to know more about the use of abseiling in undertaking external maintenance projects, please do not hesitate to contact Associate Director Sam Field: mb@murraybirrell.co.uk; 01689 898288.