The behavioural shift towards convenient online shopping was accelerated by the pandemic lockdowns, and although we are emerging from the latest round of restrictions and returning to indoor work, retail and leisure environments under the protective shield of mass vaccinations, the impact on local high streets appears irreversible.
Furthermore, on 30th June the moratorium on chasing rent arrears expires, allowing landlords to pursue retailers for the estimated £3 billion they owe. The head of the dispute resolution service at the RICS warns of a "tsunami of cases" heading to court, and "dysfunctionality in the commercial property market" if a resolution mechanism cannot be agreed. The British Retail Consortium wants a binding arbitration arrangement that will give retailers that need it some time to trade their way to debt repayment. The British Property Federation, which represents property owners and managers, wants to end the "scandal of tenants who can but won't pay rent."
Nobody seems to expect a long-term move back to how things were. The shift to online shopping isn't temporary; the only debate is over the rate at which it will continue to grow.  Too many of us have become accustomed to the convenience. Who misses wasting time trying to find a pricey parking space to then find out the shops haven't got what we want in stock?
We have looked at a range of ideas being suggested as to how retailers can cope with online competition and high streets can restore their roles as places where communities come together. This includes some implications of the hotly discussed easing of planning rules for converting retail properties to residential use.
Retailer options              
The benefits of online shopping are clear: it avoids restricted and expensive car parking, and the other growing impediments on car use (including pedestrianisation schemes, low traffic neighbourhoods, reduced speed limits, cycle lanes and congestion charges). It also gives people more time to spend on more rewarding activities. If we can buy so much of what we want and need online, what are the reasons to still go to physical shops?
There is talk of shopping becoming more of a destination-led than a mission-led activity, giving it a recreational as well as a retail purpose. City centre flagship stores operated by major retailers and individual brand owners are designed to provide an entertaining "brand experience" beyond simply stocking and selling goods. It is challenging to forecast how much experiential shopping can be adapted to small town centre and high street locations, though Homebase is a good example of a major retailer reassessing different opportunities that a high street presence can deliver.
They are experimenting with smaller high street stores that will stock decorating, DIY and gardening essentials alongside 3D visualisation technology to help customers plan larger projects. Online links for customer use to larger stores will place orders for convenient home delivery. In-store workshops will also explain and instruct on useful skills and techniques for people to carry out more tasks themselves. These much smaller high street stores are designed to be more than a stand-alone, scaled down version of the larger ones on retail parks, and through technology will offer much more than traditional local hardware stores that the DIY retail chains effectively drove out of business to begin with.
Murray Birrell's own experience of modern technology in retail premises includes acting as landlord's representative during the fitout of the adidas flagship store in Oxford Street, and identifying unobtrusive yet appropriate entry points for fibreoptic cable ducting at high-end retail outlets in London's classy Motcomb Street.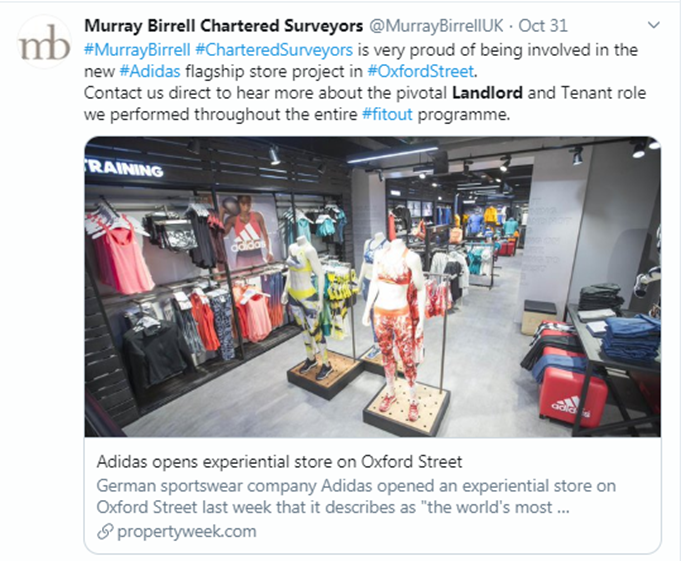 Among other high street developments, some vacant retail units are becoming Customer Fulfilment Centres, collection points for some of all the items being bought online. At least they will still draw people to the high street, even if at least some of their purchasing has been done online rather than locally.
Planners and place managers echo the importance of high streets and town centres providing reasons to visit beyond simply shopping. Bearing this in mind, and under new ownership, the former Bournemouth branch of Debenhams will remain a department store though revert to its former branding as Bobby's, which had been
acquired by Debenhams in 1972. The new store will open 50 years on as a hybrid retail and leisure destination with attractions including beauty and treatment salons, an art gallery, a rooftop bar and a microbrewery.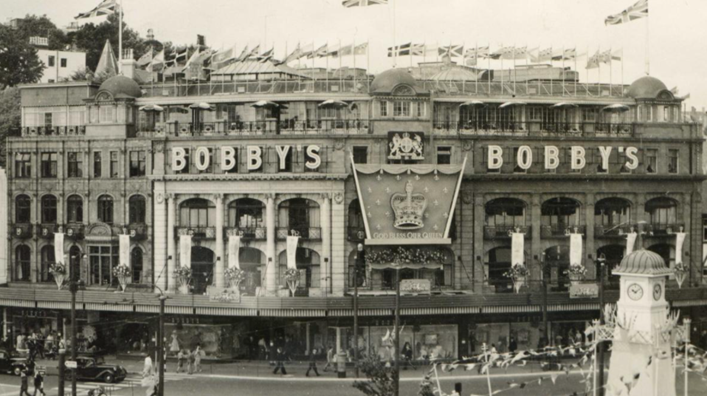 Much nearer to our offices in south east London, award-winning projects in Catford and Sidcup designed by the Really Local Group deliver mixed use residential and commercial space incorporating flats, shops, cinemas, bars and performance areas for use by local artists and dance and drama groups.
Non-retail community benefit proposals
Various suggestions include using vacant retail units to house "health hubs" which will allow putting GP and dental surgeries, drop-in health and social service advice centres, and exercise and fitness facilities on the high street and in town centres. Others talk of creative workshop and studio spaces for us to rediscover some rusty artistic talents or develop new ones, and pop-up galleries in which we might display them or gain inspiration from more accomplished artists. There are other calls to simply bulldoze some of the surplus retail space to create more public space for people to congregate, relax, exercise, or be entertained.
Though given the vested interests of numerous stakeholders, which organizations would be responsible for co-ordinating and bringing any of this to fruition, and under what regime of approvals and consent? How would local authority finances be restructured given the loss of business rates income? How would community use facilities be financed?
Conversion of former retail space to office or residential use seems a more immediate and direct approach. Working with clients in London's West End we know the cost of office space there has risen beyond overall market trends as the supply has declined over recent years. News of major retailers including John Lewis and Marks & Spencer reducing shop floor space in central London to give over some floors to office space has some logic to it.
New laws effective from 31st August 2021 also allow developers to convert retail buildings into housing without the need of a full planning application, extending permitted development rights (PDR) that already allow office buildings to be converted. "We are reforming the planning system and cutting out unnecessary bureaucracy," said UK housing secretary Robert Jenrick.
Extended PDR is not universally welcome
In less cosmopolitan areas than city centres, how appealing are homes in what were often reinforced concrete shops? Construction professionals across all disciplines are also concerned that the relaxation of requirements through extended PDR will open the way for sub-standard homes built with little or even no natural light, and with rooms smaller than low-budget hotels. Even though the housing shortage means there would still be buyers, the president of the Royal Institute of British Architects (RIBA) said: "The extension of this policy is truly disgraceful." The Royal Town Planning Institute described PDR as a "serious error." The Government's own 'Building Better, Building Beautiful' Commission concluded that the relaxed permitted development rights had "permissioned future slums."
The RICS, our own professional body, issued a report on report on 1st March 2021. They commented that a relatively swift influx of residents to town centres could create an imbalance with the current provision of amenities and services. Local authorities may need to provide extra services at the same time as experiencing a drop in income due to fewer retailers paying business rates.
We're here to help
Like many observers, Murray Birrell is uncertain as to what the best course of action is to manage the decline of a high street or town centre when retailers continue to close, though they will not be our decisions to make. In the meantime, any number of businesses and organisations are no doubt exploring options and drawing up plans.
Murray Birrell can provide professional insight and relevant services to anyone who is considering some form of built environment change of use. Our extensive practical experience includes working for freeholders of buildings (some Listed) with multi-tenant leasehold occupancy, houses in multiple occupation, refurbishment and change of use of heritage Listed buildings, contract administration and dilapidations in office blocks, and work for high street snack food and pub chains.
Please contact us for more details: mb@murraybirrell.co.uk
Written by Clive Reffell.